Torchsec Technologies is a ControlOne Partner
A Single Platform to Manage & Secure Modern Networks
Connect and protect anyone, anywhere, on any device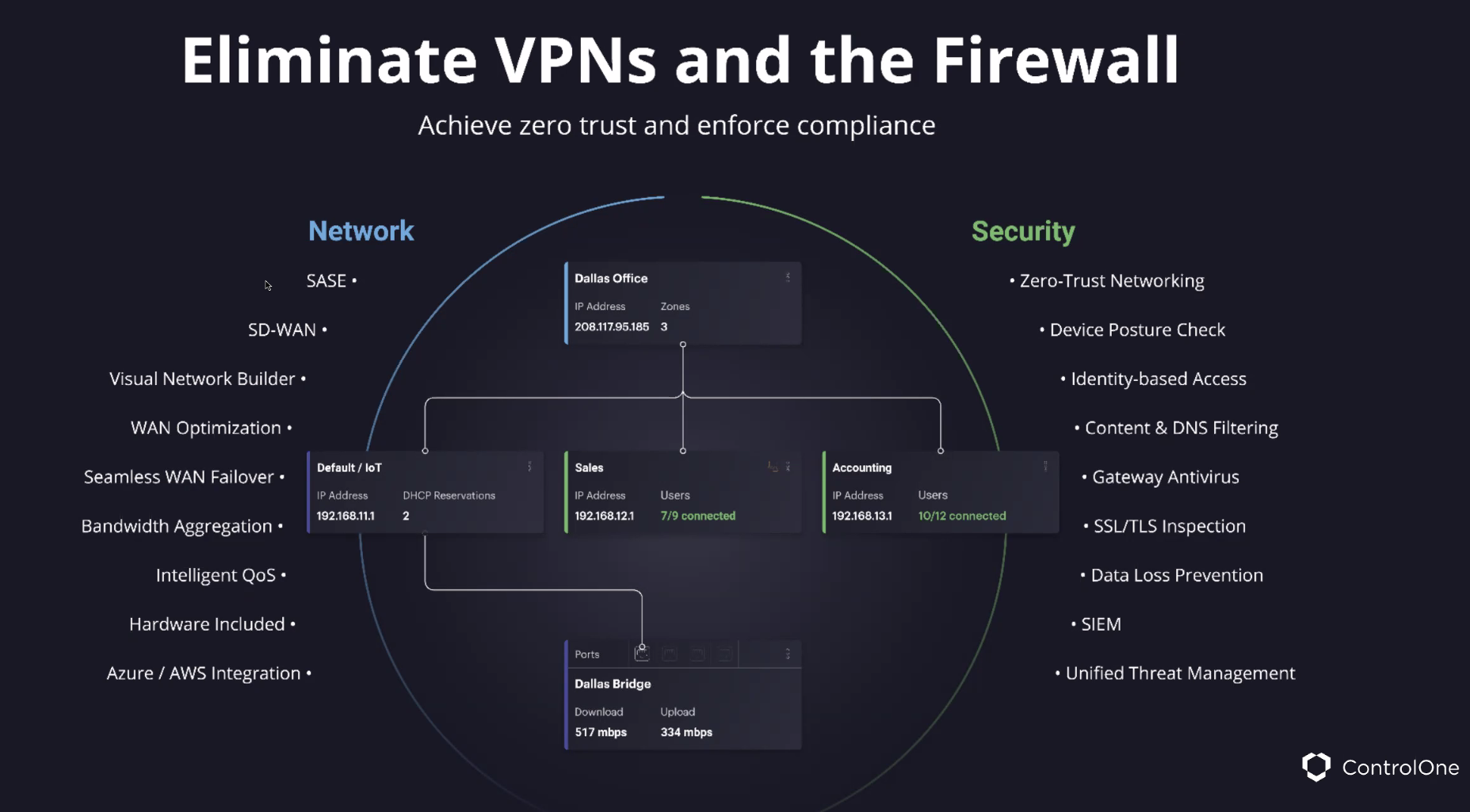 Capabilities
Cloud Firewall Zero Trust Networking Device Posture Check Content Filtering SSL/TLS Inspection
Data Loss Prevention Optimized SD-WAN Network as a Service Identity Management
Site-to-Site Connectivity Wi-Fi Protection DNS Content Filtering Intrusion Prevention
Public Cloud Connectors Incident & Event Attribution

ControlOne: Rethinking Connectivity & Security
We've reimagined what's required to regain control.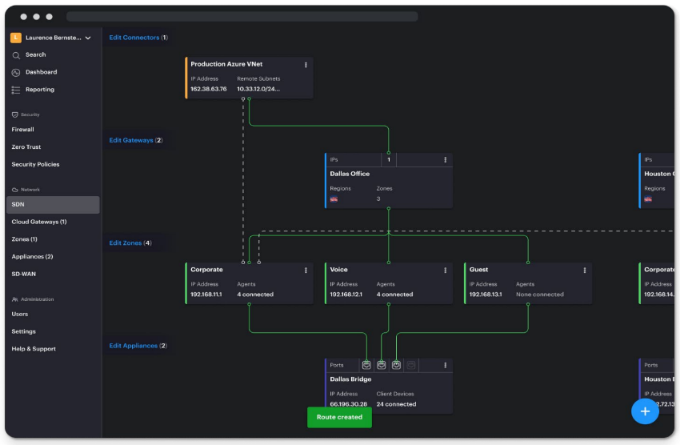 Delivering Managed Services
Today's workforce is everywhere, making it increasingly
harder to enable connectivity while securing the
business. Tool sprawl multiplies the effort to serve
clients across the lifecycle and visibility is difficult —
at the same time, compliance and troubleshooting
requirements are growing.
ControlOne: A Unified Platform Shifting the
Corporate Network to the Cloud
It's more critical than ever to protect the edge and
ensure that all users are connected by the same level of
security as the office. ControlOne is turning the network
on its head with direct to cloud access.
Better Networking
Build a better network with a combination of Firewall + VPN + SD WAN.
• Software defined perimeter to create a single logical cloud-based network
• SD-WAN for bandwidth optimization
• Agent-based always-on VPN alternative for secure remote access
Better Security
Govern by policy and enforce security in real time. With ControlOne, you can customize your settings so every
employee in the business follows the same security policy — no matter where they're located.
• Challenge everything security model to achieve Zero Trust
• Consistent security policy supported by Curated Smart Defaults
• Public WiFi protection for users and devices eliminating lateral attacks
Better Visibility
We're capturing data to allow you to troubleshoot and meet compliance requirements.
• Fully consolidated network activity logging for every user and device helps achieve compliance requirements
• Actionable intelligence accelerates troubleshooting and remediation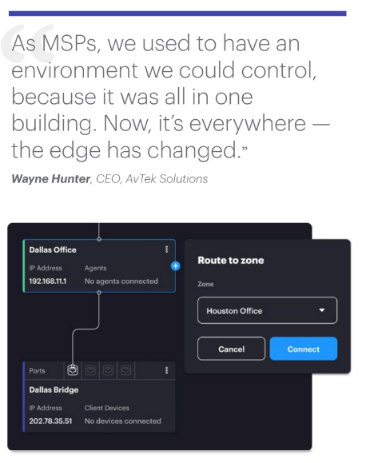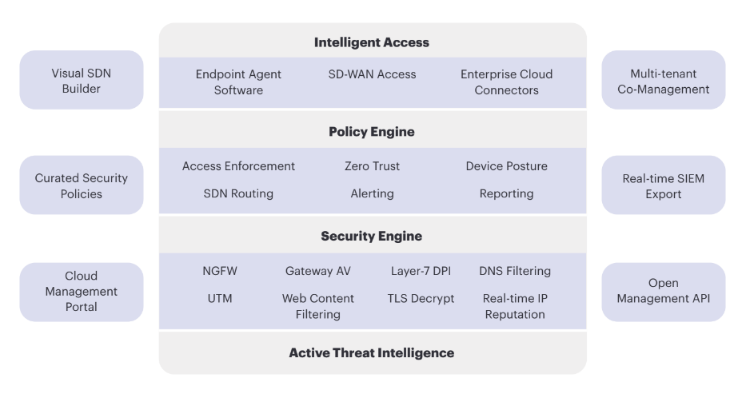 ControlOne is a unified platform that includes both a hardware and software component.
The hardware bridge is ideal for locations:
• Protection of IoT & Unmanaged Devices
• WAN optimization
• Seamless per-packet failover
• Effortless Site-to-site routing
The software agent is ideal for endpoints:
• Deploy on all desktops and laptops you manage
• Always-on DNS + Web Security
• SaaS / Cloud optimization
• Public WiFi protection
• Device posture checking
" ControlOne is a unified platform that includes both a hardware and software component. We've seen the type of results and the impact on the reputation of the MSP when all of their clients are ransomed."

Software Defined Perimeter
Visually build, deploy and manage corporate
networks, public cloud connectivity and SD-WAN
without legacy edge appliances:
• One integrated network
• Eliminate bottlenecks
• Scale without limits
• Hardware without the hassle

Unified Threat Management
Comprehensive unified threat management
including cloud firewall, Intrusion Prevention System (IPS),
Data Loss Prevention (DLP) and web content filtering:
• UTM, NAT, DMZ, DNS, TLS, etc.
• Manage policies, not products
• Born in the cloud
• Protection in all ways — always

Secure Remote Access
VPN alternative that delivers always-on
connectivity and eliminates lateral attack vulnerabilities:
• Multi-layered security
• Increase performance
• Zero config & RMM deployment
• Prevent lateral attacks
Actionable Intelligence
Enriched event attribution and intuitive reporting
deliver unparalleled visibility across the entire network
and security stack:
• Complete visibility
• One-click remediation
• Find everything
• Extended event management

Zero Trust Security
Minimize the attack surface with Zero Trust
Network Access and Device Posture Check (DPC):
• Least-privileged access, less administrative pain
• Increased network visibility
• Block non-compliant devices
• Identity & context-based policies

Security Posture Management
Continuously enforce network security
policies, prevent configuration drift, and ensure third
party compliance:
• Jump start investigation
• Extended data retention & full audit history
• Drive standardization with configuration policies
• Granular management of administrative access